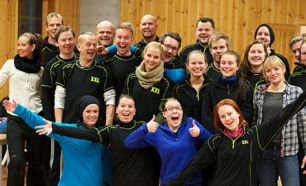 In XXL we believe that the knowledge and training of our employees, and the consistency and quality of the service they deliver, are key factors to our success. We emphasise deep product knowledge for sales managers, store managers and store employees when hiring and training. We primarily recruit people with considerable knowledge and interest in sports and outdoor activities. We believe that the opportunity to specialise within an area of interest, facilitating in-depth knowledge and expertise, helps attracting and keeping the best employees.
Endless opportunities
Every employee plays a role in the development of one of the largest sports chains in Europe. Since the beginning in 2001, we have experienced strong growth and celebrated the openings of more than 90 large stores. We will continue our strategy, targeting three to five new stores every year. In 2014, we opened our first store in Finland and we continued to see increased growth in Norway and Sweden. In 2017, we opened the first store outside the Nordics, in Austria. Besides this we have a scaleable and growing e-commerce platform. These growth paths create opportunities for our employees. We have great experience with job rotation between stores, departments and countries.
Excellent training
All of our sales managers, store managers, store employees and HQ employees participate in a training program with sales training and the XXL culture being important elements. Another important part of our employee training is continuous product education and update. All store employees participate in a training course at "Camp XXL", our own training facility located outside Oslo.
Our customers expect to meet skilled and service-minded employees, and we expect our employees to represent XXL in the best way possible. The introduction program is therefore focused on key subjects like corporate culture, product knowledge, sales training and business objectives. Members of the XXL management team are participating in this program.
With us, you will encounter a unique working environment with exciting colleagues, working hard to make sure we all have fun at work.
Our motto is:
"Be the best, make money and have fun!"
As an XXL employee, you receive
– A unique working environment
– Professional opportunities
– Best training in the industry
– Attractive compensation and benefits